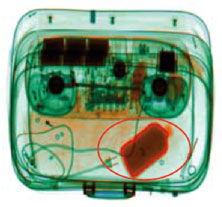 The Solution: Checkpoint Liquid Detection
TSS has developed patent-pending software that runs on conventional checkpoint X-ray security systems that automatically analyzes and detects liquid explosives. The TSS software works in both cluttered bags (as shown), and for the highest accuracy, works in container bins.
This technology has been evaluated by the US Government, and the results show that the TSS solution provides the best-of-the-best solutions for liquid detection using conventional X-ray sources.
Features
Automatic detection and identification of liquids in bags
Automatic classification of isolated liquids as permissible and non-permissible
Almost perfect detection of prohibited items with less than 3% false alarm rate
Fast Real Time Analysis
Large easy to read and use Touch-Screen Workstation
Advanced network capabilities for easy future upgrades and Remote Real-Time Inspection
Available as a cost effective upgrade to existing Dual Energy TRX X-ray baggage scanners with minimal modifications
Benefits
Allows liquids to be brought through the checkpoint
Provides highly accurate threat detection with low false alarms
Reduced inconvenience for travelers at the checkpoint
Who Would benefit using Liquid Detection
Both the traveling public, and the Security Screeners can benefit from accurate Liquid Detection. This capability allows travelers to move through the checkpoinht with less restrictions. For Airport Screeners, this allows them to focus on threats, and less on liquid detection. The benefits are less inconvenience for the traveling public, accurate threat detection of liquid threats, and increased focus on non-liquid security threats.
For more Information on Liquid Detection, contact us.