The Solution:

TeleInspection by Expert-on-Demand
The TSS Teleinspection capability provides remote experts-on-demand for screener assistance, or for expert review of particularly challenging images. The operator or automated screening software has the ability to send the image out for a separate review, or for feedback on the image. The operation can be used to make the decision, or to assist the operator in the decision whether manual or automated screening is required.
Diagrammatic Representation of the Local Screener Workstation Decision Process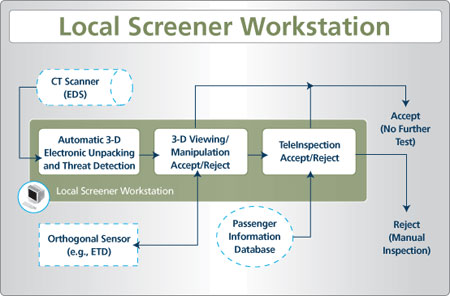 Features
TSS proprietary and patent pending technology
Remote experts located anywhere in the world available 24 hrs/ day provide immediate oversight of difficult bags
Access to passenger information database to provide enhanced decision making
Review of images by experts lowers false alarm rates without missing potential threats
Audio and Video communication between the local screener and remote experts
Remote 3-D Electronic Unpacking reduces personnel costs
Distributed experts throughout the world saves operational
Benefits
Improves detection performance by providing expert advice on difficult bags and bag images
Reduce chance that a threat is missed
Off-load analysis of challenging bags, and thus increase throughput of local screening
Reduced operator fatigue by sharing the load, and a more consistent decisions on potential threats,
Double-check questionable threats resulting in improved checkpoint security
Who Would benefit using Teleinspection
Security Screeners and Supervisors can benefit from the use of TSS Teleinspection. The use of Teleinspection ensures that highly trained experts review the more difficult and challenging bags. This decrease the work load on the screener, while improving the overall security of the checkpoint. When new threats are found, this new threat can be detected quickly by leveraging and training the experts, and then having general screeners detect any questionable items.
For more Information on Teleinspection, contact us.